Living the recovery from the inside
No need to say how devastating the end of February 2022 in Ukraine was. Going from a steadily growing urban agency, living in hip center Kyiv, enjoying a complete family with a kid, cat, and dog to an ongoing nightmare called war with Russia.
2022 was at the same time full of careful optimism of rapid counteroffensive, holistic recovery, and international integration; however, this progress was limited, and we entered a long process of preparing for winning. It is so multifold. The basis of it, which still has to be often explained to friends abroad, international partners, and colleagues, is about doing an x2-x3 performance in the conditions of night shelling, grief, and being a witness to how your country is destroyed, and compatriots are killed.
Today's Ukrainian recovery and well-being could be imagined as a fragile pipeline, where all components are essential – a recovered environment, cured and integrated veterans and other vulnerable groups, return of 8 million Ukrainians back, reboot of economy, rebuilding the cities and municipalities in a meaningful way. Missing any of these components puts Ukraine in a position worse than it used to be before the war, which creates a high level of uncertainty and anxiety while the war continues, and every other day can bring new breaking news.
Our response to war from the level of young urbanism and architecture professionals took the form of the ReStart Ukraine project, where we expressed our hopes, dreams, and inner vision of how our cities and municipalities should look like. Freely moving across sectors and connecting dots, we felt like innovators at the very early stages; however, this feeling soon was dissolved by several challenges, existing ways of doing things in municipal and governmental cabinets, and the accumulation of crimes and damage by Russia. The last aspect made today the sustainable recovery a very difficult task.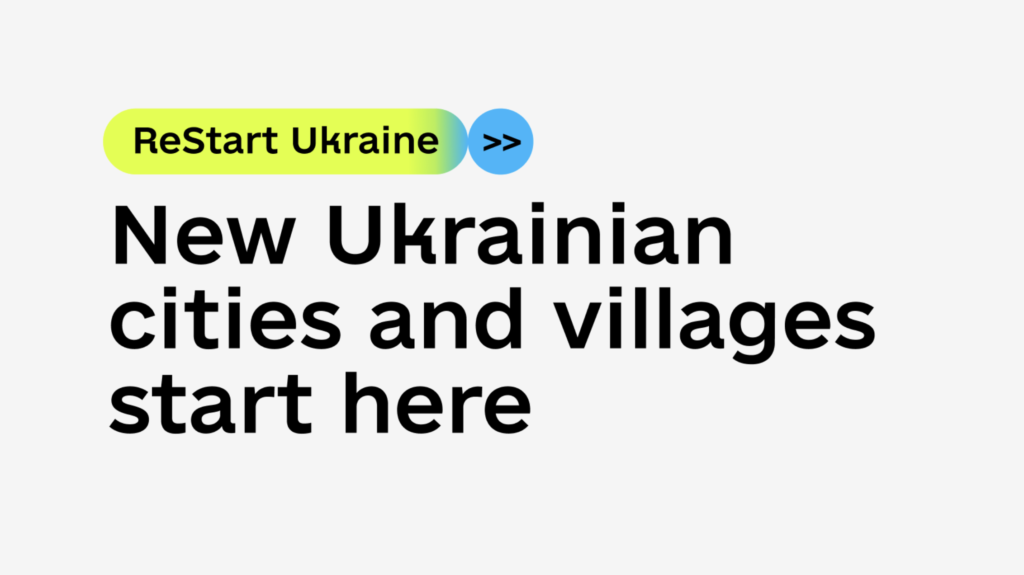 The question is how to balance between low-carbon steady recovery and quick recovery out of concrete and metal, between speedy economic recovery and protecting the damaged environment for generations ahead, and how to create community-based recovery and not copy-paste foreign templates to totally destroyed villages and townships.
Within our work, we focused on providing a toolkit for municipalities in order to be able to form sustainable programs for future recovery. After 1,5 years of war, it can clearly be admitted that the structural unit for the recovery is not a flat, a house, or a school but a neighborhood, city, municipality, or region. ReStart Ukraine suggested a prototype of an interactive map for evidence-based decisions and developed a blueprint for the spatial recovery of municipalities. The case of the possible recovery of Chernihiv highlighted several challenges and bottlenecks to be addressed in further work.
1. Consistency of the recovery vertical
Connecting the bits and pieces of the emerging national idea of recovery, pillars of future development, and addressing high-level threats of war with the regional orchestration of municipalities is the hardest but the most empowering foundation for holistic recovery.
Today a strong municipality has to own the recovery process and plug in various regional, national, and international contexts. Today's operational recovery is far from perfect, creating some patchwork projects by different providers. School from UNICEF, a bridge from Japan, a road from the US, and electric generation from Canada – is not a thinking experiment but a reality.
2. Capacity activation
Any type of suggested innovation from outside Ukraine must land on the prepared ground. This was clearly highlighted in our work with Voznesensk municipality in the south of Ukraine, where we currently develop a talent management system rather than introducing various shining technologies. Urban planners, facilitators, project managers, construction workers, and procurement specialists are only a few professions where local capacity has to be strengthened. A logical outcome of this process would be an increased absorption capacity of municipalities country in general.
3. Processes not practices
Today it is already crystal clear that literally adopting projects from other countries without considering the Ukrainian context is impossible. Moreover, a possible effective solution would be mobilizing foreign R&D teams to work with local specialists on specific aspects of recovery. It should be a 'common' Ukraine-other world 'NASA' mission of reducing CO2 for the astronauts in need with the limited resources we have in front of us on the table.
Being pragmatic by default helps today not to get too excited about possible success as there are so many reasons this success will never happen for real. The path to the sustainable recovery of Ukraine is about leaving hidden agenda behind, not agreeing for less when we talk about justice, and protecting conceptual ownership of recovery by Ukrainians while being frank and crystal clear when some aspects are not yet properly defined.
As an NGO and a professional team, we regrouped and work today towards developing a practical showcase of municipal recovery of new standards going, where possible, beyond old-fashioned practices of prewar times. Our focus in municipalities remains as previously:
helping to use various types of data in a single system for evidence-based decisions
untapping the potential of different stakeholders and seeing their needs in the future built environment
providing iterative urban planning model of constant improvement
building solid resilience urban profiles
This basis would be a perfect start for the municipal recovery and allows meaningful dialogues on various levels.